Following a visit to our Samsung Staron exhibition stand at the Surface Design Show 2014, Gemma Smith (in house designer) from the Natural History Museum worked directly with us and Paragon Creative (in York): the award winning design, build and fit out company.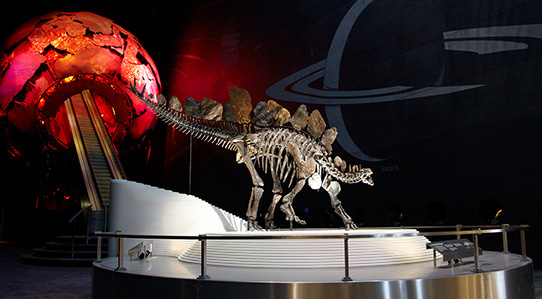 Paragon Creative was commissioned to create a plinth that would house the best preserved Stegosaurus skeleton in the world.
The dinosaur lived around 150 million years ago and was discovered in 2003 in Wyoming, USA. It now proudly stands on display at London's Natural History Museum.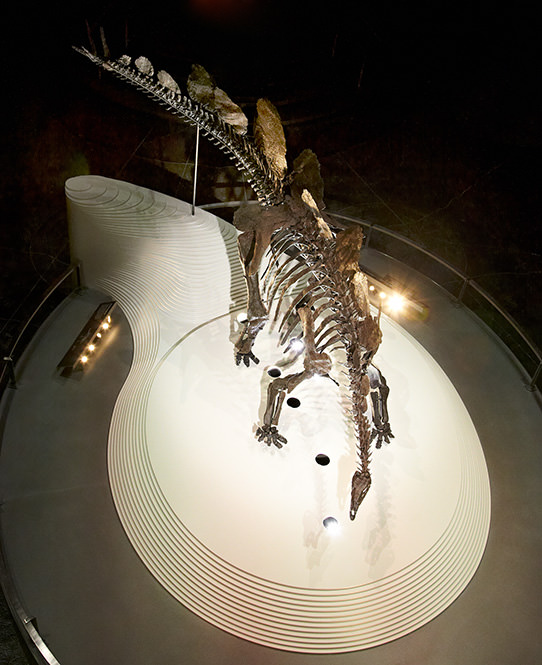 Paragon's design brief was to produce a plinth which supported the Armature for the Stegosaurus without the plinth actually touching the Armature in any way to eliminate any risk of vibration or impact movement. The combined weight of the armature and the bones of the Stegosaurus is approximately 900 kg, so Paragon had to carefully design a substantial internal independent steel frame inside the outer plinth, which sits on bespoke shock absorbent feet.
The outer plinth then surrounds and covers this inner plinth with no contact what so ever. The outer plinth is covered in two colours of Samsung Staron Solid Surface (Sanded Tundra and Sanded Stratus) and each contoured layer has been CNC cut and fabricated to exact dimensions ensuring the contours remain precise and even whilst also ensuring the structure of the plinth is sufficient to carry the weight of the armature and the Stegosaurus. This was a tremendous challenge for Paragon`s Production Design and Solid Surface facility. As you can see, Paragon met this challenge with great success!
The whole plinth and Armature was then erected in Paragon`s Solid Surface workshop in York before being dismantled and shipped down to the Natural History Museum and installed on site behind tight security.
Paragon also built a Staron solid surface Interpretation table, incorporating replicas of the dinosaur supplied by Propshop and Graphics and AV by the Natural History Museum.
The 3D preservation of the Stegosaurus and its degree of completeness makes it the best specimen in the world. Researchers at the museum are hoping that the Stegosaurus will allow them to learn a great deal more about this rare and intriguing dinosaur species
Image Credit: Trustees at the Natural History Museum, London