Blackheath Products Raises Over £2,000 for Children's Charities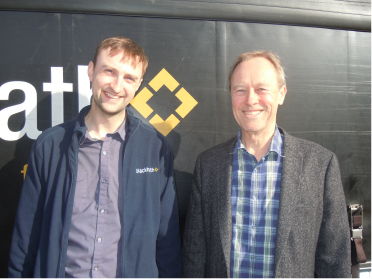 Congratulations are in order for Blackheath Products boss Ian Foster, who, alongside colleague and cousin Paul, raised more than £2,000 for two children's charities by cycling a staggering 176 miles through Germany in just three days.
Ian and Paul cycled from Grob-Umstadt to Bamberg last month to raise funds for both Birmingham Children's Hospital and Deutsche Kinderkrebsstiftung – the German Children With Cancer Foundation.
Ian was at a suppliers meeting in Europe last year when Tim Pearson, the CEO of Wilsonart, convinced him to join him in the quest.
Ian said: "Wilsonart has a factory in Germany as well as in the UK, and Tim told me that he was organising a charity bike ride in aid of the Waldpiratencamp – the Forest Pirates camp - from the Deutsche Kinderkrebsstiftung , with a team target of €10,000.
"It sounded like a challenge in aid of an incredibly worthy cause, and I asked if I could take part, dividing my support between both Deutsche Kinderkrebsstiftung and Blackheath Products' nominated charity, BCH. The business has supported BCH since 2010 as a number of our staff have spent time there as their children suffered serious illnesses. Having seen the way the Hospital helped those children get well, we all agreed it was a cause worthy of every ounce of support we could offer.
"The Deutsche Kinderkrebsstiftung project also struck a chord with me as one of my daughters had a brush with cancer a few years ago, and having such a personal reason to support both of these causes, I was in from the moment I heard about the ride," he said.
Ian began his training at Christmas 2016, having roped in Paul's support to both train alongside him and join the 20-strong group of cyclists.
"At 66, cycling 176 miles was not going to be easy. Paul is only 30, so I knew that he'd be a great support and motivator throughout, and I was very glad that he agreed to push the pedals for charity too," he said.
"I'm delighted to say that all of our training paid off, and that when it came to it, the ride through Germany was enjoyable rather than gruelling. We made some great friends among the group and we all encouraged one another throughout the journey.
"While we were both very tired at the end of it, that was overshadowed by exhilaration and a tremendous sense of achievement, and I'm proud to say we were part of such a great initiative," he added.
To boost our fundraising efforts further, donate at https://www.justgiving.com/fundraising/blackheathproductsltd.