Considering Staron Solid Surface in your kitchen?
Let us show you how Staron can be used to striking effect by your kitchen designer on everything from worktops and island units to splashbacks and windowsills.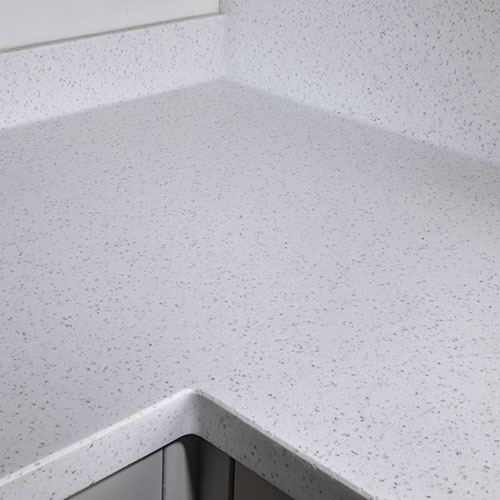 Seamless Staron Worktops
Staron worksurfaces can be jointed together seamlessly. Thanks to their seamless design, Staron worktops, like the one shown in the image, provide a highly sculptured finish that's super hygienic and a breeze to keep clean. And thanks to their highly durable design, they'll look their best for years to come!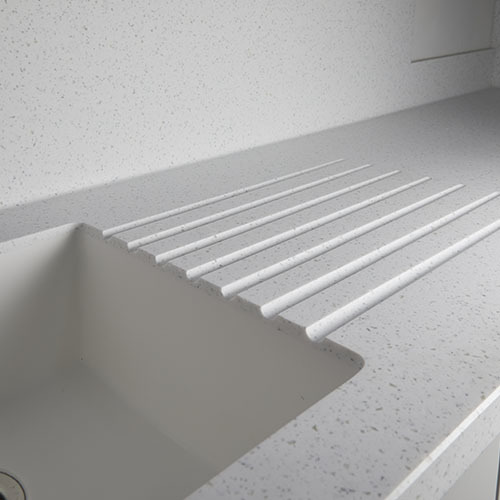 Seamless Sink and Drainer Grooves
Staron solid surface sinks can be seamlessly joined to your Staron worksurface to create an ultra-waterproof and hygienic wet arear. Drainer groves can also be installed within your Staron solid surface to keep everything dry without any loss of performance or quality. Your kitchen designer can give you various drainer groove styles!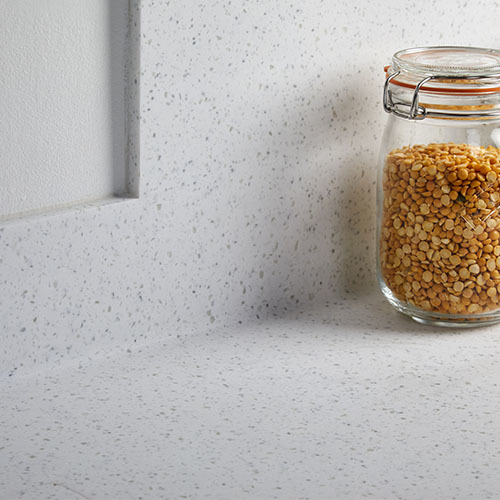 Upstands and Splashbacks
Upstands and splashbacks are a modern and cost-effective alternative to traditional tiles. Your Staron solid surface fabricator can seamlessly install upstands and splashbacks using the same surface material as your worksurface and breakfast bar.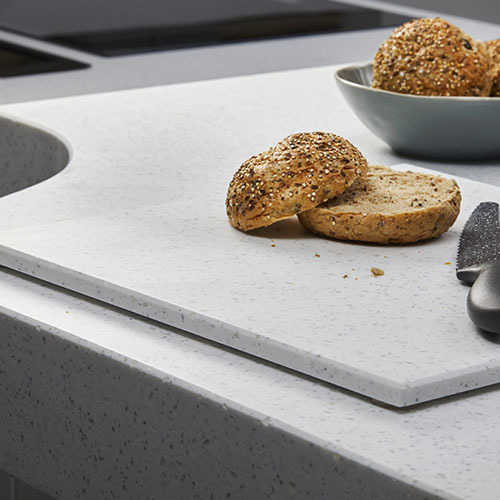 Staron Chopping Board
Sometimes, the simplest ideas are the best. This stylish and highly practical accessory uses the same Staron décor as the other components in the kitchen, providing the perfect surface to practice your knife skills on without damaging your other surfaces.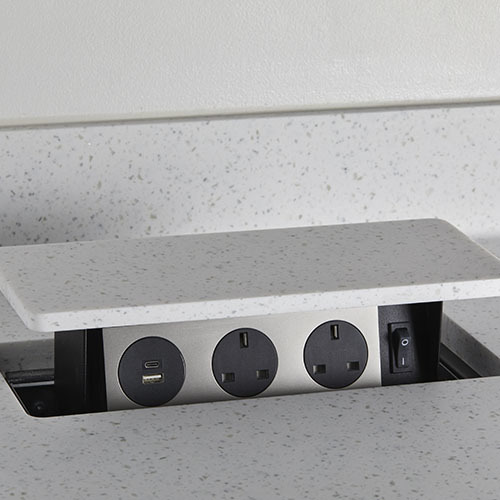 Pop-Up Plug
Power when you need it, extra space when you want it. That is the beauty of this pop-up device, which can be pushed up when you need to plug in then popped down out of sight when the decks need clearing.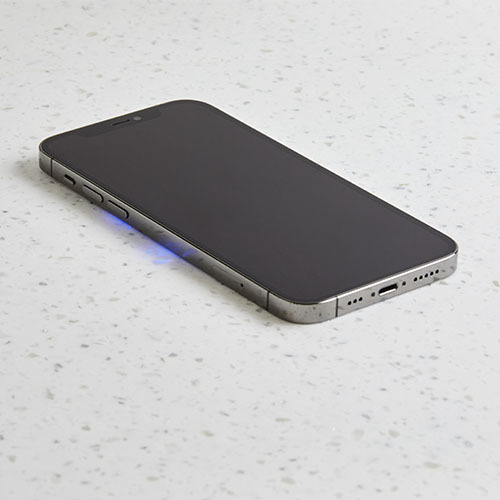 Wireless Smart Device Charger
Seamlessly install a wireless charger underneath your Staron worksurface, giving you a place to charge your phone without the need for wires over your worksurface.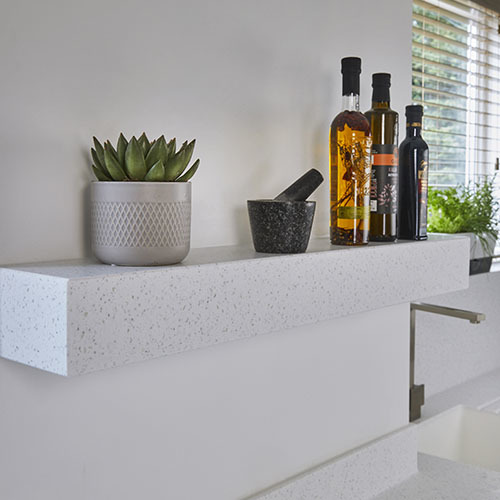 Shelving
After some matching shelving to create more storage space in your kitchen? Why not considering bespoke shelving to match your Staron solid surface. Showcased in this image is a 100mm Staron Solid Surface floating shelf, fabricated from the same material as the worksurfaces. A stunning and practical addition to any kitchen.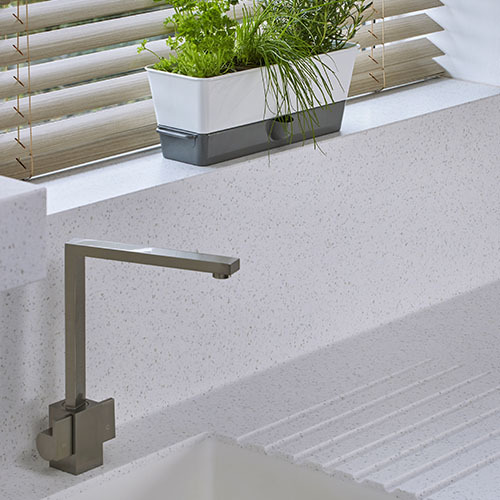 Seamless Staron Windowsill
This Staron windowsill has been seamlessly joined to the top of the Staron upstand to create a waterproof seal across the window ledge. And as the same décor has been used it effortlessly ties the whole kitchen together!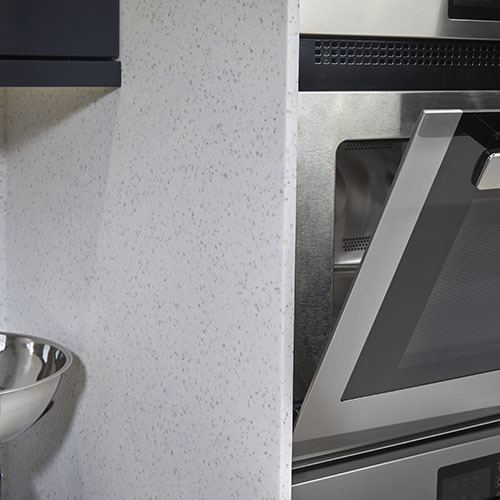 Cabinet Framing
Not only is cabinet framing a stylish way to finish your kitchen and bring the room together, it also gives you even more durable, easy to clean and hygienic surfaces to keep you and your family safe.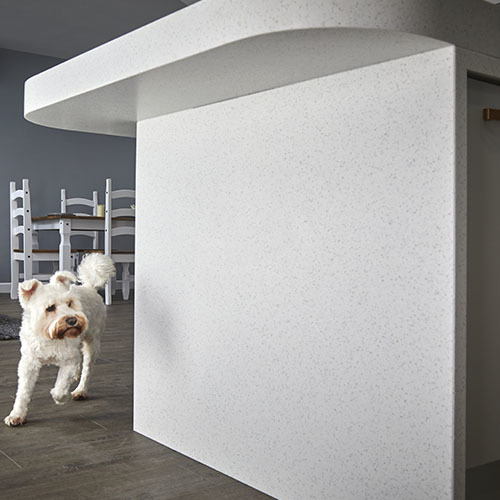 Decorative End Panel
This image shows that the gable end of the breakfast bar has a colour matched 40mm thickness Staron decorative end panel. The result? A striking sculptured look that also protects the kitchen cabinet. And as with all Staron surfaces, the decorative end panel can be kept keep with a simple wipe.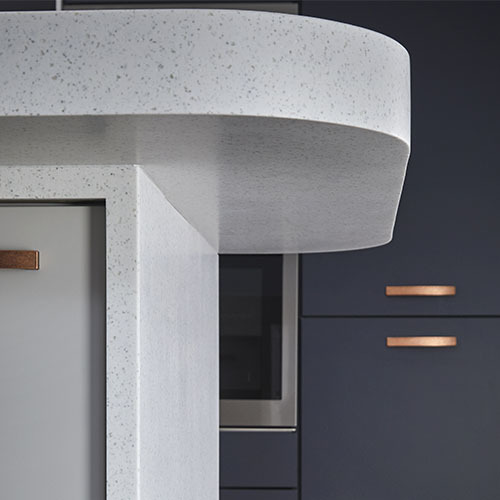 All Angles Covered
Is the underside of your breakfast bar going to be visible? No need to worry, with Staron solid surface, both sides and all edges can be completely colour coordinated.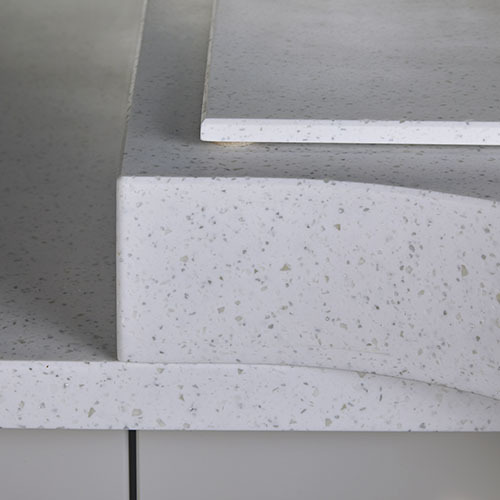 Choose your thickness
With thickness ranging from as little as 12mm to as much as you need to bring your vision to life, you're able to create a unique and stylish kitchen design that fits perfectly around the needs of both the chef and the seated diners.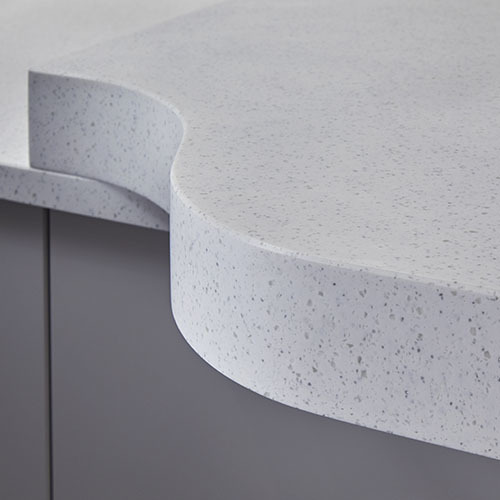 Sweeping Curves
Staron solid surface can be fabricated to suit your kitchen. Looking for an unusual shape for your breakfast bar? Choose Staron! Staron is all perfect for simple curves that follow your cabinetry! Just ask your Staron fabricator.
Take a look at the full Staron Collection on our website, here.