Working with dinosaurs at the Natural History Museum
We do love to get down to the bones of a project, and this is perhaps one of the scariest we've ever undertaken – and not just because of the size of its teeth!
We worked alongside Gemma Smith from the Natural History Museum and award-winning design and build company Paragon Creative to create a plinth fit for one of the most magnificent beasts of all time.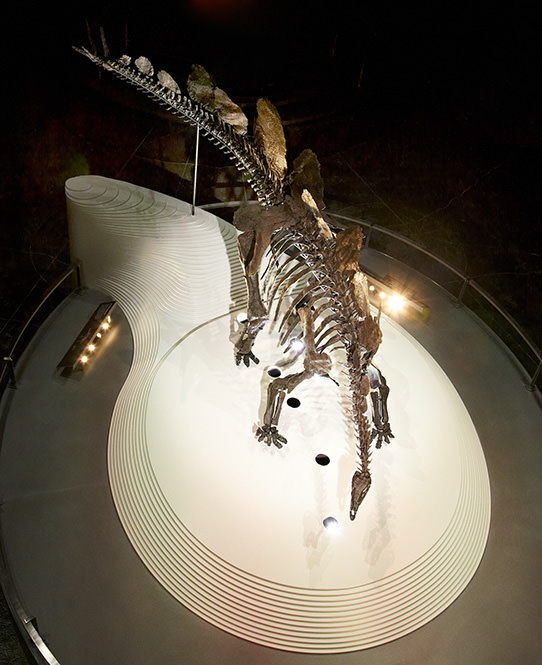 This beauty, or perhaps we should call her Sophie, is the best preserved Stegosaurus skeleton in the world, was discovered in 2003 in Wyoming, USA before being carefully transported to London's Natural History Museum.

The dinosaur lived 150 million years ago, and having been preserved so beautifully for centuries, there was a huge amount of pressure and precision involved to ensure that the final structure showcased the skeleton perfectly and supported the Armature for the Stegosaurus without actually making contact with it, in order to completely eliminate any risk of vibration or impact movement.
With a combined weight of around 900 kg to support, this was no mean feat! Paragon's careful creation included two separate plinths, one concealing a substantial internal independent steel frame and sitting on bespoke shock absorbent feet.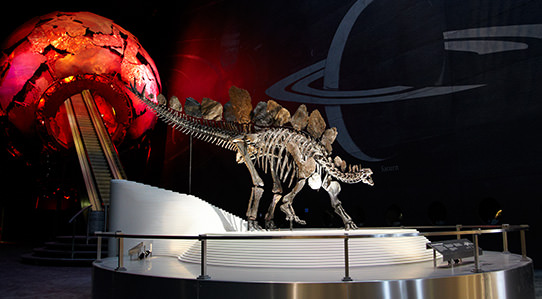 A second, outer, plinth was then created to surround and the inner plinth, thereby ensuring that there is no contact at all between the skeleton and the structure.
While we needed the plinth to look striking, it's fundamental role was to showcase the Stegasaurus at its most impressive. The outer plinth is covered in two colours of Staron Solid Surface in subtle shades of Sanded Tundra and Sanded Stratus, with each contoured layer being CNC cut and fabricated to exact dimensions, ensuring the contours remain precise while supporting the skeleton and Armature.
The technical wizardry of the Paragon team was certainly put to the test, with the end result being erected at Paragon's Solid Surface workshop in York before being dismantled and shipped to the Natural History Museum and installed on site behind tight security.
Next time you visit Sophie, appreciate the craftsmanship that went into supporting her too!
Image Credit: Trustees at the Natural History Museum, London