Staron Solid Surface Reception Desk fabricated by Breakout Interiors
Take a look at this stunning reception desk fabricated in Staron solid surface by Breakout Interiors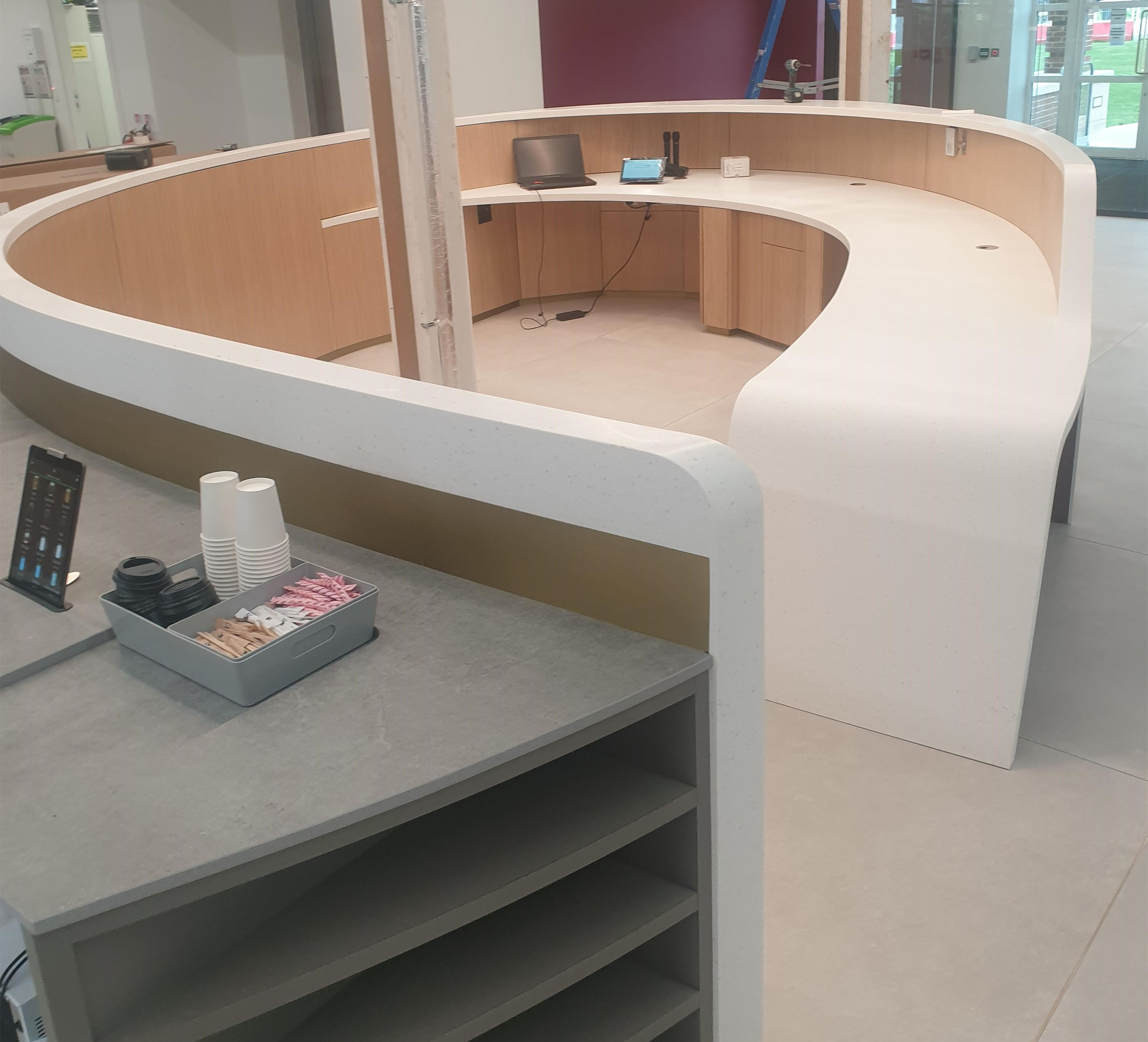 First impressions count, and as reception counters are often the first thing you look out for when entering a new commercial building, it is important that they are bold and stunning in appearance, as well as able to withstand heavy traffic on a day-to-day basis.
We have spoken to the team at Breakout Interiors who told us this stunning reception desk is for a world class investment company based in London. The concept and design is by HLW Architects whose main goal was to create a large, semi- circular desk with sweeping waterfall surfaces to provide both the customer and visitor with a spectacular reception desk.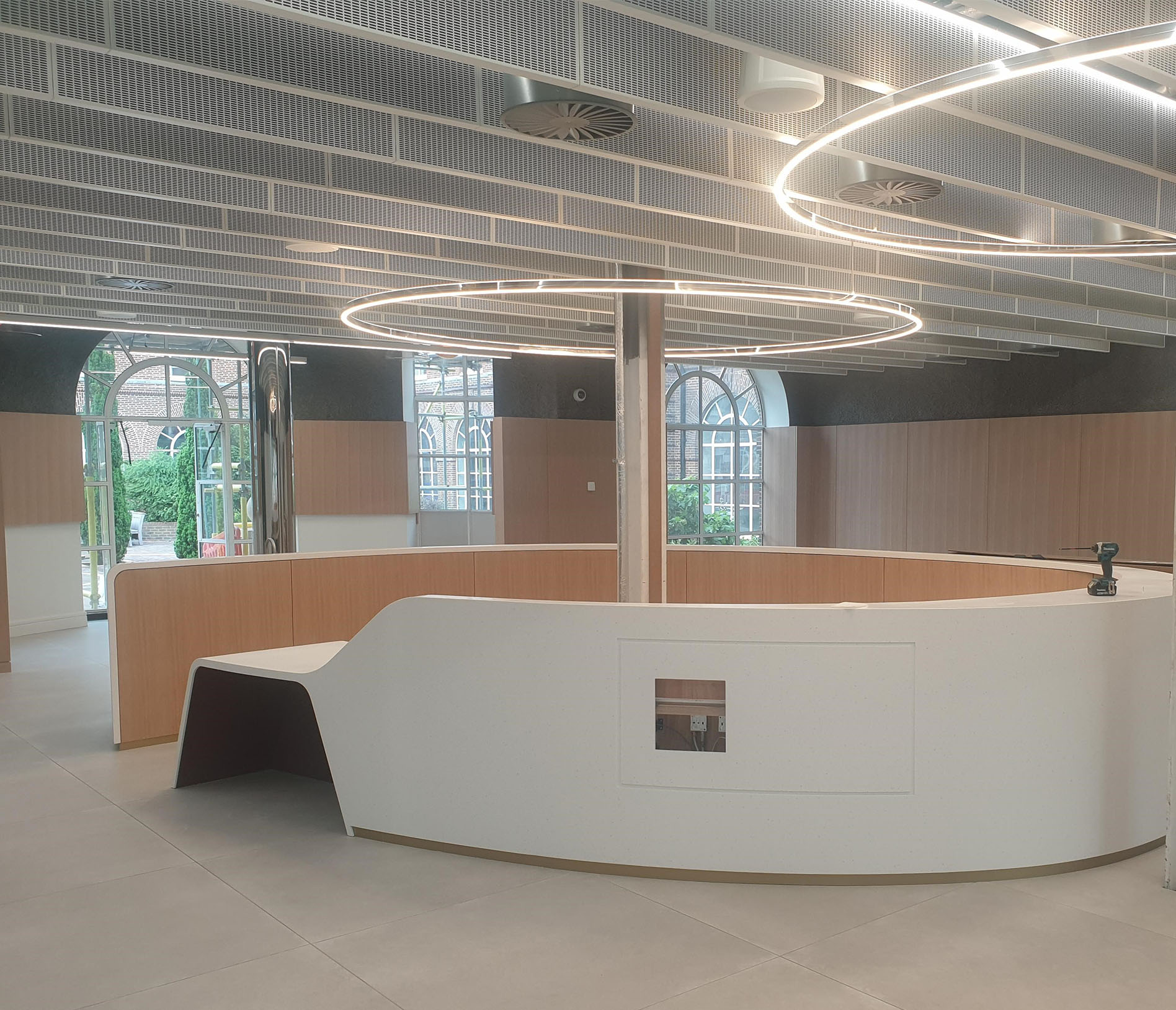 Staron has been specified alongside veneered vertical panels for the desk and a stone surface for the tea point. Staron Pebble Swan is the dominant decor for the counter tops of the desk. Breakout Interiors commented: "Staron Pebble Swan is a beautiful white decor with just enough delicate green and brown elements to create a bright, warm and welcoming surface." Staron was also chosen for its thermoforming capabilities to create the curved design and its ability to be seamlessly bonded to give a completely solid construction, without any conspicuous joints.
Thanks to all these versatile Staron properties, the Breakout Interiors team of highly qualified joiners, stone masons and solid surface fabricators were able to complete the demanding design of HLW Architects to everyone's complete satisfaction.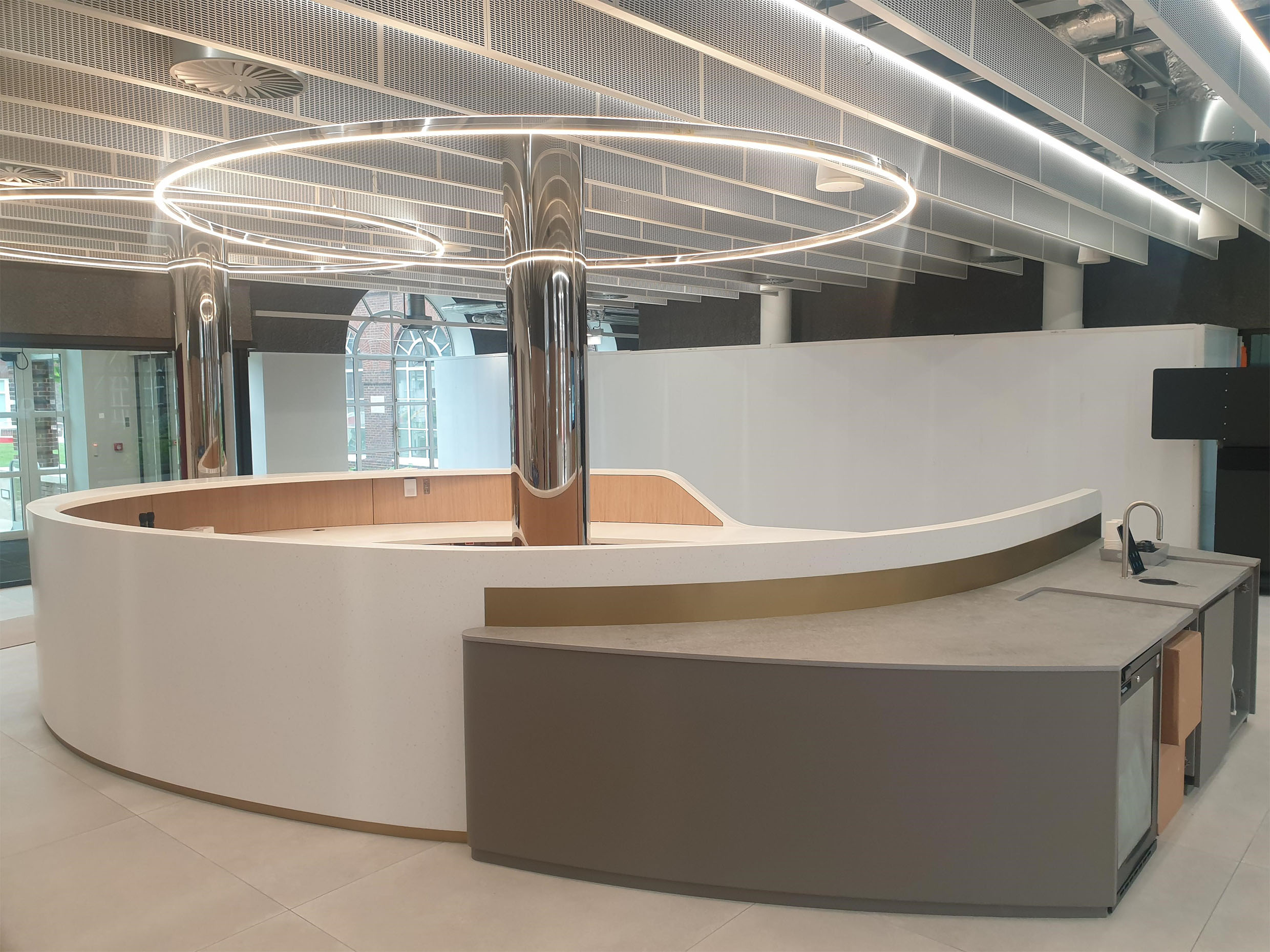 All parties involved in the project, from the architects and fabricators to the client are delighted with the outcome. The team at Breakout Interiors are rightly very proud of all their hard work and how smoothly the different elements of the construction were completed. From the very start they knew that Staron was the ideal material for this important and prestigious project. Breakout Interiors exceeded the goals laid out for them. The desk represents more than just a good job…. it proves great teamwork can make any vision a reality.

Staron Pebble Swan fabrication by Breakout Interiors UK Ltd – Daniel Jones - production manager
Installation by Breakout Interiors UK Ltd – Mark Fisher – Installation manager
Joinery by Anglia Shopfitting (Norwich) Ltd – Alan Bygraves
* The images shown were taken during the final stages of the installation, with some of Breakout Interiors tools being shown.