Spectra Slim-Edge
Spectra Slim-Edge is a 12mm solid laminate surface, with a solid colour core to complement each decor. The range has the stunning appearance of natural stones with a range of 18 carefully selected decors and three distinctive textures, but without the heavy price tag.
Slim-Edge worksurfaces are 100% waterproof, have impressive impact and abrasion resistance combined with a very hygienic design.
Spectra Slim-Edge worktops are easier and quicker to install than natural surfaces, allowing your kitchen fitter to complete the job on site, without the need for templating.
Spectra Slim-Edge worksurfaces, breakfast bars and splashbacks are remarkably practical and stylishly slim.

Worktop Finder
Use our worktop finder to help narrow down your laminate worksurface choice.
Custom-Made Service
In addition to the Spectra Slim-Edge standard worksurfaces, we offer a custom-made service. Take a look at the worktop shape and features we offer within our custom-made service below.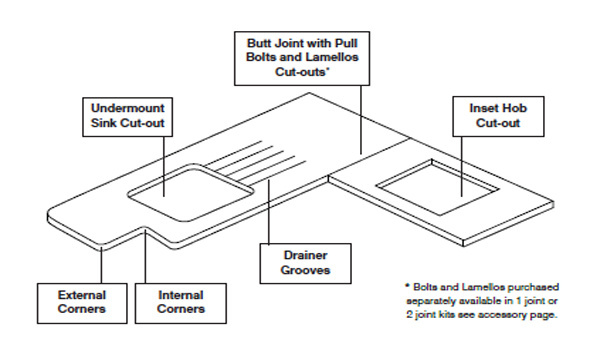 We will manufacture your custom-made Spectra Slim-Edge surface to whatever shape and size you need. We can add features such as sink and hob cut outs, drainer grooves and butt joints, saving you time and money. Those tricky bespoke shapes can easily be achieved with precision and perfection. There are just 4 simple steps:
Step 1
Design your worktop
Step 2
We will create a technical drawing for you to approve
Step 3
Once we have received your signed drawing, we will get to work on manufacturing your custom-made worksurfaces!
Step 4
After we have triple-checked your completed custom-made surfaces, we will deliver them within 3 weeks of receiving your signed drawing.
Bespoke Worksurface Calculator
Quoting made easy with our Bespoke Worksurface Calculator
Warranty
All Spectra worksurfaces come with a lifetime warranty against manufacturing defects.